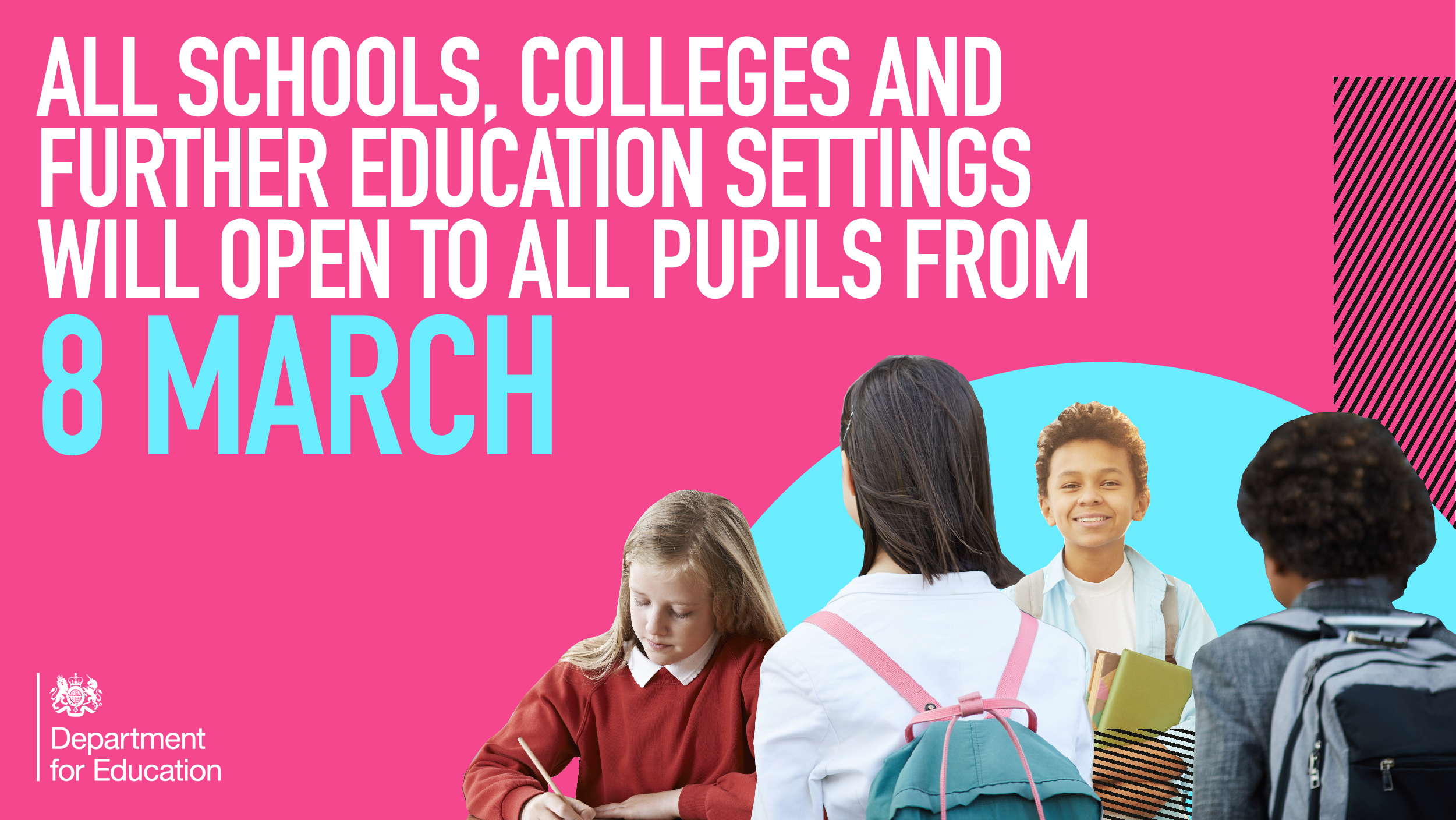 The Prime Minister outlined his roadmap to recovery on Monday 22 February and the first step will include the full re-opening of schools to all pupils from 8 March.
Pupil attendance is mandatory and the Government will expect any pupil absence to be monitored and reported in the normal way so that appropriate actions can be taken against parents to secure attendance.
Schools are expected to accommodate full classes and the introduction and use of any rota system is not approved. However, a school may stagger start and finish times for pupils to reduce large congregations though this "should not reduce the overall amount of teaching time". Likewise, break times may be staggered providing it doesn't impact on teaching time. Schools may also wish to remind parents not to congregate around school gates when collecting or dropping off pupils.
If social distancing cannot be maintained for secondary school pupils during lessons, then they are expected to temporarily wear face masks in class and not just in communal parts of the building. This recommendation will be reviewed by the Government at Easter.
Every secondary school pupil is expected to be tested three times on the school site in the first two weeks of school re-opening plus take a further test at home. As pupils are not expected to return into school without a negative test result, there is some leniency for a gradual reintroduction of pupils in the first week to allow testing to take place. Beyond this, pupils will be given home testing kits and expected to test on a twice weekly basis. School staff will also be given home testing kits to test on a twice weekly basis. Primary school children will not be tested.
A school must send home any pupil that has been in close contact with a person testing positive and request they self-isolate for 10 days. Any school with two or more confirmed cases within a 14 day period should consider this to be an outbreak and call for advice on the Department for Education's helpline.
Clinically Extremely Vulnerable (CEV) staff and pupils should be advised to remain shielding at home and not attend school. CEV staff could be given work they can undertake from home where possible. Schools are therefore still required to arrange and offer remote learning as necessary, both to CEV pupils and those in self-isolation.
Wraparound provision is expected to be made available as are school meals and so kitchens should be 'fully open'. Support should continue to be given to any pupil that is eligible for a free school meal who is remote learning.
The Government's decision to seek full re-opening of schools does seem to conflict with the position of the teaching unions who issued a joint statement ahead of the decision to encourage a phased re-opening of schools unless there was clear scientific advice to support a full re-opening. At the start of the year, a template letter was circulated by some of the teaching unions for school staff to use to declare that they felt a return to teaching in schools presented a serious and imminent danger which they could not avert and they proposed to remain away from the workplace to avoid this risk. This sought the protection offered by Section 44 Employment Rights Act 1996 and that they should nto be subject to any detriment by taking this action. It will remain to be seen if these letters begin to be resurrected and used ahead of the re-opening date.
Disclaimer: The articles are only accurate at the time of drafting, their content is merely informative and should not be relied upon as a substitute for legal advice.